The hall is 15 m long by 7 m wide and has a stage with curtains. It is light and airy with a suspended wooden floor and suitable for many activities: keep fit, dancing, parties, meetings, entertainment etc. The hall has wall lighting suitable for social functions and fluorescent strip lighting. There is a disabled access.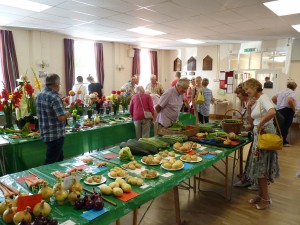 The hall can accommodate 80 seated around tables for meals etc or 90 seated in rows for presentations.  A bar is available on request for an additional charge. Please note that we do not cater for birthday parties for those aged between 12 and 21 inclusive.
There is a large well-equipped kitchen.  It has ample worktops with two sinks and a hatch for serving refreshments. There is a 5-hob  gas cooker with a large oven, an instant hot water boiler, fridge and microwave.  There is plentiful  crockery; cutlery is available on request. There are toilets for men and women and disabled visitors.
To hire the hall please contact the Lettings Secretary, Alan Lang, on 07541 889866 or contact us.
Regular usage can be seen at a glance here.